Hair fall is the most common thing in our daily life for every human. It is a universal problem also because every person wants to good look. Hair is important in our beauty. Hair fall, also known as alopecia, is the loss of hair on the scalp or other places on the body where hair normally grows.
Hair fall has a lot of causes like pollution, Genetics, age, stress, and diet. But we have a lot of tips on how to avoid hair fall. A lot of Medicines are available in the market.
Cause Of Hair Falls
Genetics
Most common cause of hair fall is genetics. If any women have long hair, her daughter has long hair.
Age
In older days, only the aged person had hair fall, but nowadays, there is no age limit for this person to have hair fall issues.
Chemical Products
using chemicals is the most common cause of hair fall like bleaching, dye, and high chemical shampoos.
Stress
one of the most important reasons for hair fall is stress. In this competitive time, They are under a lot of stress due to work pressure and education.
Hair Fall: It Is Normal To Lose Hair Every Day
"The increased hair loss is known as telogen effluvium," explains dermatologist Dr Emma Wedgeworth. "Typically, about 85% of our hair is in a growth phase (called anagen) while only 15% is in a resting phase (telogen). I
n times of physical or psychological stress, this ratio changes and more of our hair enters the telogen phase, the resting phase.
As a result, we can see an increase in hair loss two to four months after exposure. Of course, losing a hundred strands of hair every day is normal, and it's normal for them to fall out in the shower. However, if you notice a noticeable increase in thinning, it could be due to stress.
Don't panic; there are several ways to treat hair loss (more on that in a bit). The stress you are facing right now could affect your hair growth in the future. Stressful events that happened months ago can affect hair growth three to six months later – often, you won't notice it – but sometimes you will. "Trauma-related hair loss is usually temporary and tends to return once stress levels are reduced," says Dr Farjo. "If this concerns you and you haven't gotten to the root of the problem, it's worth seeking expert advice.
Eight Ways To Treat Hair Loss
Meditation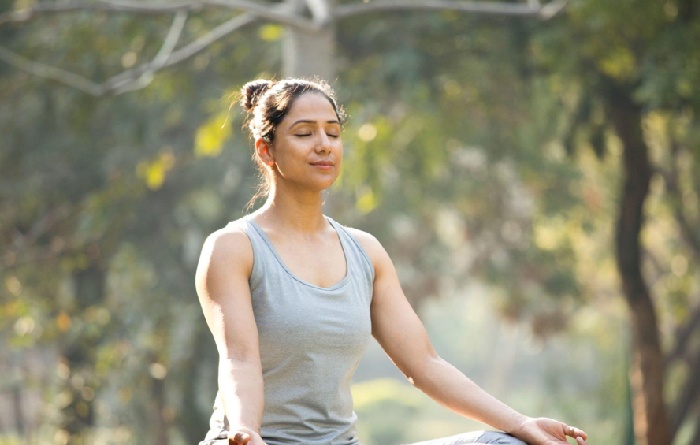 Whether you mentally focus on your breathing or meditate for 10 minutes, do what you can to relieve any stress you may be feeling. "I recommend doing some breathing exercises in bed before you go to sleep and after you wake up.
First, inhale for a few seconds, then exhale to try and relax your mind," says Dr Ahmed. Apps like Headspace and Calm can also guide you through effective breathing techniques and meditation sessions.
 Create A Positive Environment For Hair Fall
"The environment is a really important thing," says Dr Ahmed. "We know that a noisy, messy and dirty environment is not conducive to your mental health, and with many of us now working from home it is important to create a positive environment in which to live. Turn a space into your personal work-from-home space while locking in the things you love.
Scent nicely, use different textures – there's a lot of research on how different textures can affect our mood. For example, sit on a soft cushion or have something handy to touch."
Stimulate The Scalp For Hair Fall
Scalp massage promotes blood circulation and can stimulate hair follicles and, therefore, hair growth. Instead, use hair oil or Redken's Cerafill Retaliate Stemoxydine Hair Thickening Treatment – it helps cleanse the scalp while stimulating circulation.
Learn To Release Tension For Hair Fall
Focus on muscle tension exercises to help the body recognize when it's tense and override innate responses to anxiety and stress (which can make things worse). "Starting with your feet, squeeze all the muscles in each foot, hold for five seconds, then release," says Dr. Ahmed. "Do it to your head. Your body begins to learn how you feel when you're tense versus how you feel when you're relaxed, and that way, you can train your mind to recognize its negative reactions and replace them with positive substitutes."
Balanced Diet For Hair loss
Experts agree that a balanced diet is essential for healthy hair. Since many of us are vegans or on exclusionary diets, it's important to ensure we're getting enough iron, vitamin D and zinc, for example. A good dietary supplement can also help: The Viviscal Hair Growth Program contains Zinc, Biotin, Iron and AminoMar C, which promote hair growth.