Are you looking to elevate your style? Check out our curated collection of boat neck blouse design, perfect for any occasion. These elegant and sophisticated designs are crafted to flatter different body types and feature intricate details, unique patterns, and exquisite craftsmanship. Whether you're attending a wedding formal event or want to make a style statement, these Boat Neck blouse design is a must-have in your wardrobe.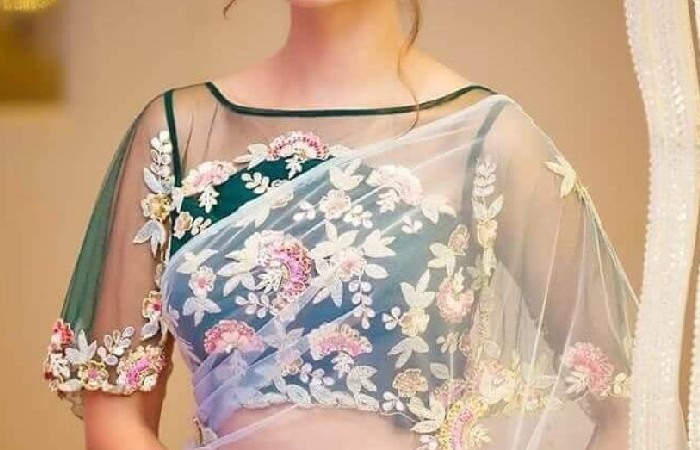 From delicate Embroidery to trendy prints, a design suits every taste and preference. Pair them with your favorite saree or lehenga to turn heads wherever you go. Can you pair this versatile style with sarees, lehengas, skirts, or pants to create a fashionable ensemble?
Back Boat Neck Blouse Designs
Back boat neck blouses are a stylish and elegant addition to Indian ethnic outfits. They add sophistication and a contemporary twist to traditional sarees or lehengas. These blouses are suitable for weddings, festivals, and special occasions. The back of the blouse features a boat neck neckline, adding surprise and elegance when paired with traditional or contemporary attire. Consider these back boat neck blouse designs for a unique and stylish look.
Trendy Back Boat Neck Blouse Designs Types.
Many women want to wear it daily in trendy in our life; a simple back boat neck design is an excellent idea. It is simple and looks very elegant.
Back Boat Neck Embroidered Blouse
Nowadays, Embroidered is most running trendy. Suppose you wear an Embroidered Back Boat Neck. It looks like a stunning and eye-catching design. Many embroidery patterns are available in marketing, like beads, stones, and sequins.
many women love Doris because it looks pretty and has an adjustable fit. Back Boat Neck with Dori seems very traditional. You can put on a dori Back Boat Neck with decorative tassels or beads. Sometimes the blouse does not fit properly, then dories will help you adjust.
Lase Back Boat Neck Blouse Designs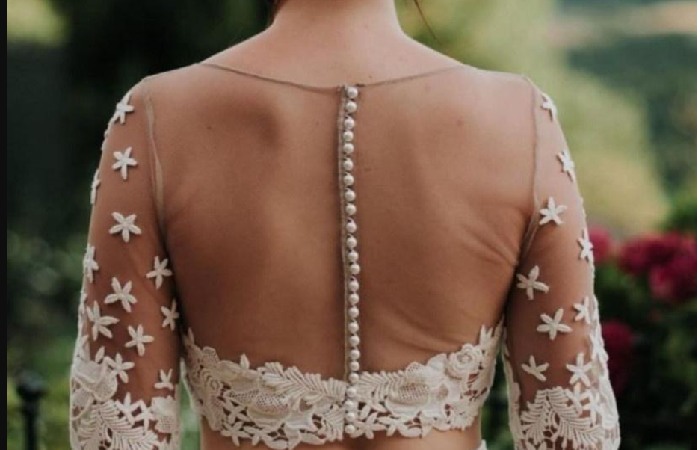 It is simple and looks very elegant. In back boat neck blouse designs, lace designs are beautiful and trendy and can be worn with any fabric. The look increases depending on the lace. Many types of lasers are available in the market; many people also make their Laces.
Front Boat Neck Blouse Design
A front boat neck blouse design is a type of women's blouse in which the boat neck neckline is placed at the front of the blouse. It gives a beautiful and sophisticated appearance. Not only can we wear a saree, but we can also wear skirts, lehengas, and pants.
Those who choose the front boat neck blouse design style will be different. The reason is that there are very few people who show much interest in the front neck design. But this back neck blouse design looks very different and very trendy.
Classic Front Boat Neck Blouse Design
These boat neck designs have wide and straight necklines at the front, emphasizing the collarbone and shoulders. That way, it looks pretty and different looks. It typically has short sleeves or three-quarter sleeves. This look is timeless and lovely on a variety of body shapes.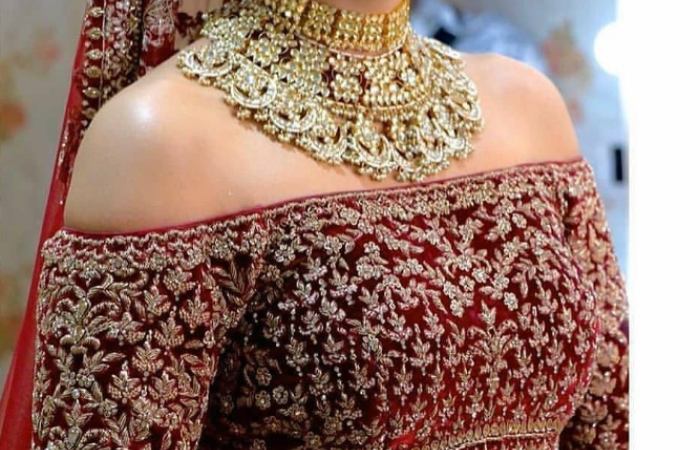 If you wear a lehenga, the embroidery designs for the blouse can give good elegance. So, Embroidery in front boat neck blouse designs gives a grand look. There are many types of it.
The collar blouse design gives a very different look and dignified style. Many people like to wear collared blouse designs. The Front Boat Neck with collar blouse design will give an even more beautiful and grand look.
Lace Front Boat Neck Blouse Design
Many types of lace can be lace and transformed into many different designs. A little touchup of the neck design with lace can make their Front Boat Neck Blouse Design more beautiful and trendy.
Conclusion
In this article, we give information on boat neck blouse designs. Our intention is that this guide will be a little helpful for you when choosing a good outfit and especially when selecting a neck blouse design. A guide like this is a good solution for many people when there is confusion in selecting designs.