There's nothing quite like spending time in the sun, walking in the warm sand and enjoying the ocean's waves. Vacation never looked so good, especially when you feel confident. Before you leave for the beach, make sure to try these tips. With a little preparation, you'll be ready to enjoy each day with dazzling style, glowing skin, luscious hair and unstoppable confidence!
Tip 1: Protect Your Hair
Prolonged sun exposure can harm the overall structure of your hair. The sun can also do a number on hair that is dyed and render it brassy and brittle, so consider items to pack in your tote bag that can protect your hair from glaring heat, humidity and salt water. You can apply nourishing hair and body oil with a lightweight, vegan keratin formula. Hair and body oil tames frizzy hair, moisturizes dry strands and pampers your skin by sealing in moisture and highlighting your natural glow.
Tip 2: Wear Sunscreen
The American Academy of Dermatology recommends wearing a broad–spectrum sunscreen of 30 SPF or higher. You need about an ounce to fully cover your body. Don't forget your lips, too! Lips are vulnerable to the sun's rays, so bring a 30 SPF lip balm with you.
Tip 3: Beach-proof Your Makeup
You can wear makeup while having fun under the sun, but if you don't choose the right formulas, your cosmetics can end up looking overdone. Below are a few tips:
Wear waterproof mascara.
Choose a lightweight, waterproof foundation.
Use a tinted lip stain that contains the proper SPF.
Pick a creaming eyeshadow that blends well and does not settle into fine lines.
Tip 4: Remember Post-beach Hair Care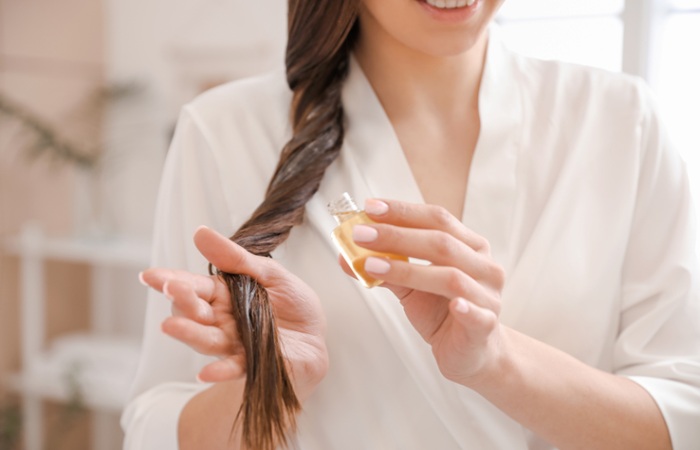 It feels amazing when the salty breezes pass through your hair and create natural, beachy waves. Hair oil is an excellent pre-treatment for those scorching summer days, and when you've left the sand and surf for the day, your strands will need some extra TLC. Beach conditions can deplete hair moisture and dry out your scalp. Sun damage to hair can result in split ends, brittle strands, brassiness and frizziness. Nourish your hair with a wonderful vegan shampoo and conditioner set. Plastic-free shampoo and conditioner bars offer rich lather, contain zero SLS parabens or fillers, and treat you to heavenly scents.
Tip 5: Enjoy the Beach in Style
Before taking off on your beach vacation, take time to find the perfect swimsuit. Choose a pretty bathing suit that enhances your curves and comes in a color or pattern you love. Another item to consider is a beach cover-up. These come in handy when the temps cool off, or you want to limit your sun exposure. Also, if you don't feel comfortable walking around in your bikini or heading to lunch or dinner in a swimsuit, a stylish beach cover-up is the perfect extra-light layer that is also super stylish.
Tip 6: Try Waxing
If you'd like to leave your razor behind this vacation, consider waxing. It can be more convenient because the results last longer than shaving, and your skin will look smoothest. For many women, it provides the peace of mind of not having to worry about shaving on vacation. Book your waxing appointment at least a few days in advance because your skin will be more sensitive following leg or bikini waxing.
Tip 7: Get a Long-lasting Mani or Pedi
A manicure and pedicure are elegant grooming touches that can help define your beach look and enhance that summer goddess glow. There is a wide range of pretty tropical shades you can wear on your fingers and toes. However, sand and salty water can be tough on nail polish. Whether you go for a classic French manicure or a bold pop of color, choose a gel or dip powder application for the ultimate durability. These can last up to three weeks without any signs of wear and tear.
Tip 8: Amp Up Anti-aging
Did you know that using a serum containing vitamin C before applying sunscreen can help amplify your SPF's efficacy? Formulas that include free-radical-fighting ingredients help to protect the skin against the breakdown of collagen and elastin. Using an effective antioxidant serum under your SPF creates a simple but powerful skin care duo for your time on the beach. A serum with vitamins C and E offers brightening and hydrating results, and hyaluronic acid plumps up the facial contours for a radiant complexion.
Tip 9: Buff Your Skin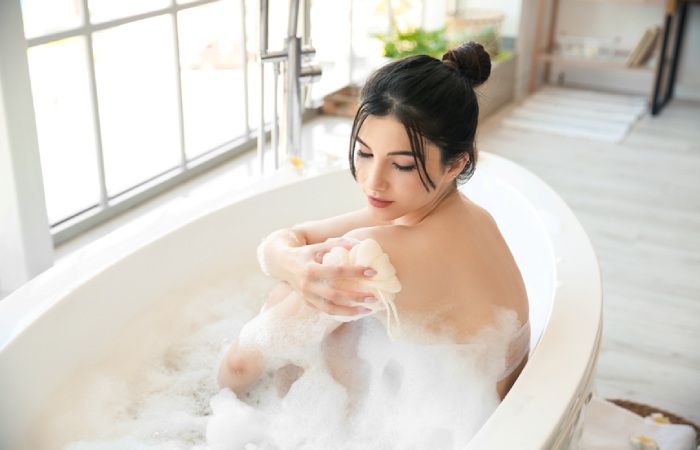 If you begin buffing your skin a couple of weeks before your vacation, you'll hit the sand and surf with the smoothest skin around. You can accomplish this by using a loofah in the shower with your favorite cleanser. You could also slough off dead skin cells with a salt or sugar scrub two times weekly. Then, apply jojoba oil or shea butter to seal in that exquisite moisture. Another idea is to dry brush the skin before getting into the shower. This not only helps remove dead skin cells but also stimulates circulation.
Rock What You've Got
The beach brings a sense of peacefulness to all who spend time there. Take time to pamper yourself with these beauty tips so you'll feel perfectly at ease during your stay. From nailing that sun-kissed makeup look to finding the right hair care and skin care for safe sun exposure, staying confident on the beach is all about embracing and making the most of what makes you unique.